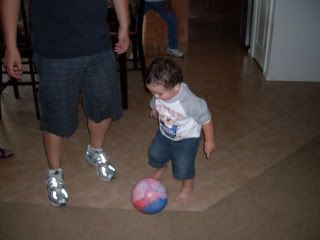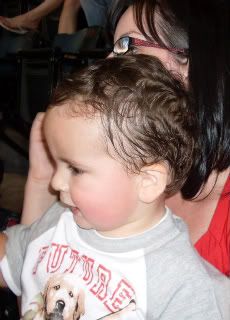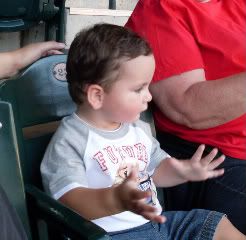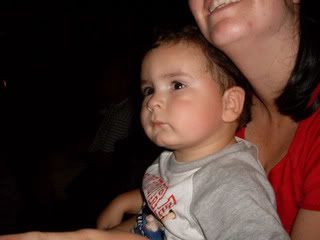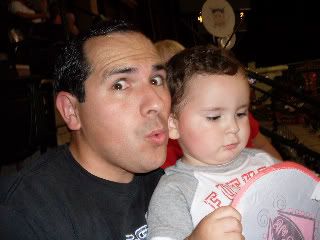 Last Friday we went to the Diamond vs Angels game at Chase Field! We had so much fun! Chase field is awesome! Up on the level where the cheap seats are they have a toddler playground, a bigger playground and a little baseball diamond where the little kids can go and try to hit a ball and run the bases. It is so cute! Oliver lasted the whole game and through the fireworks which was AMAZING. He is usually so set on his schedule that we were sure we'd end up leaving early with a screaming tired toddler. But he did great and had so much fun! We had a blast! Oliver seemed to be unimpressed by the fireworks show. I thought he'd really like them but he just sat there... and maybe he was just really tired. But at least he wasn't scared.
The other picture is of Oliver playing soccer through the house with Berto. He is such a good little soccer player already! I know this sounds like a slight exaggeration BUT seriously the day Oliver started walking he started kicking a soccer ball around. He can dribble it and everything and has really good control of the ball. It is so cute to watch! I love it!
Oliver is becoming quite the little chatter box. FINALLY! It is getting so fun to listen to his little conversations with himself. I'm still trying to figure out what the heck he's saying most of the time but we're getting there!
I love being this little boys mommy. He is so sweet and so much fun to be with! I feel so blessed to have been given the opportunity to be Oliver's mommy! I'm one lucky girl!